Youth Member Opening on the Dispute Resolution Center's Board of Representatives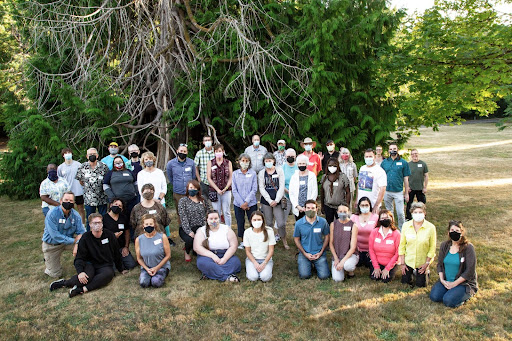 Do you ever wonder how a non-profit service functions, and the role that a Board of Representatives has in helping it do so? Do you want to be a part of an essential service for your community, one that creates civic harmony through conflict resolution? Are you looking to build valuable experiences for future resumes and college applications? Bears: if you said yes to any of these questions, you will want to hear about the Dispute Resolution Center of Thurston County's Youth Member Position opening on the Board of Representatives. 
Mickey Lahmann, Board President and interviewer for the position, believes that applicants can stand out for this role, by being "genuinely curious and available to participate in meetings and events." Additionally, she says that students with "other community involvement and/or civic or school leadership responsibilities would be of interest to us." Bob Butts, Board Member and interviewer for the position adds that they are looking for "thoughtful, engaged individuals who want to make a difference in our community, and who are comfortable interacting with adults." He says that, "Importantly, we would like an individual who is not shy about expressing their views regarding the direction of the Board and the DRC."
There are a few hopes and expectations for the selected applicant, in order to get the most out of the experience. Butts explains, "The youth representative will be responsible for attending approximately ten board meetings, which occur on the third Wednesday of the month." He adds that "DRC Board members are requested to serve on a board committee, which include Strategic Planning, Board Development, Finance, and Policies." Lahmann says that right now, "meetings are done on Zoom, but hopefully [they will be] in person again soon." Additionally, Butts mentions that "the DRC conducts several programs specifically for youth, and having a youth representative can be valuable in the design and implementation of these programs."
The Dispute Resolution Center of Thurston County has a specific mission statement that outlines the core goals, function, and role in our community that the service provides. According to the DRC website its is to "empower people to resolve their disputes by providing conflict resolution services and training community members in those skills", and they highly value "personal empowerment, integrity, respect, collaboration, civility, and trust." The role of the Board of Directors is to manage the funding for this service, and to make important decisions for the future success of the non-profit; they are currently looking for a youth member to be a part of this board, and that could be one of you!
The current deadline for the next youth board member selection is May 2022. To apply, visit the Dispute Resolution Center of Thurston County's website mediatethurston.org, and select "board opportunities". Participating in a not-for-profit service, and being involved in a board of representatives are both stand-out experiences for students to have when applying to college, or jobs in the future.