Olympia Robotics
Hang on for a minute...we're trying to find some more stories you might like.
Olympia High School's Robotics teams have recently logged a victory familiar to our school's institutions: inclusion in state-level competition. This is not an opportunity available to any team. To be able to proceed to the state level, team members must possess many valuable skills, including communication, versatility, and the ability to work under pressure. These are all capabilities of each and every member of Oly High's two robotics teams, Oly Cow and Oly Cannoli.
Robotics supervisor Mr. Steinkamp has many reasons to be confident in his teams. "Skills in communication and versatility are important to the work that the teams do, and it's something they're good at." It is imperative that members of Oly High's two robotics teams are able to easily and efficiently communicate ideas to other members. "You have to be able to effectively explain what you're thinking to the people around you, and to be able to actively process the information you're being given, and then to produce these ideas." These skills are the core of Robotics' success, and they would not be where they are without abilities such as these ones.
Though he is hopeful for his teams, Mr. Steinkamp does have his concerns. "State is a big deal, and it can be a lot to take in," he says. "A lot of these people haven't been there before. It can put a lot of pressure onto their performance." The competition is scheduled for February 11, which leaves the robotics teams time for troubleshooting, tweaking, and perfecting their bots. Still, there is a higher level of competition to be anticipated from State. "The better teams go to state. [Our teams] will be facing more experienced participants with, generally, better machines than most that they've competed against so far."
Oly Cannoli member Zach Skoog looks forward to the competition. "It's always fun to meet the other teams there, and see what they've made. Some robots are just crazy, and whether we win or not, it's really cool to see." This enthusiasm is shared by the rest of the team. "It's good to compete, but I enjoy the road to competition just as much. Building, testing, changing our robots; it's most of the enjoyment of the club. It would be great to bring home a trophy, but I'm happy with the experience anyway."
Robotics participants, though commonly optimistic in their machines and the necessary work, still have their concerns regarding the competition. "Things can always go wrong with our robots," explains Nicole Gunderson, a member of Oly Cannoli. "One time at an event, all of the signals around interfered with the phone that controlled the robot, and it couldn't perform at all. There are solutions to most of the issues we could run into but sometimes there's no way to predict them. A robot that doesn't drive can't be judged."

About the Writer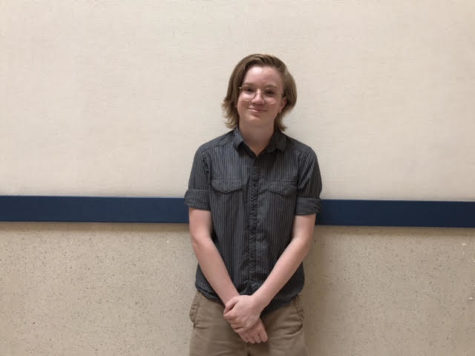 Charlie Furgeson, Reporter