The Olympus Online: Do You Even Read It?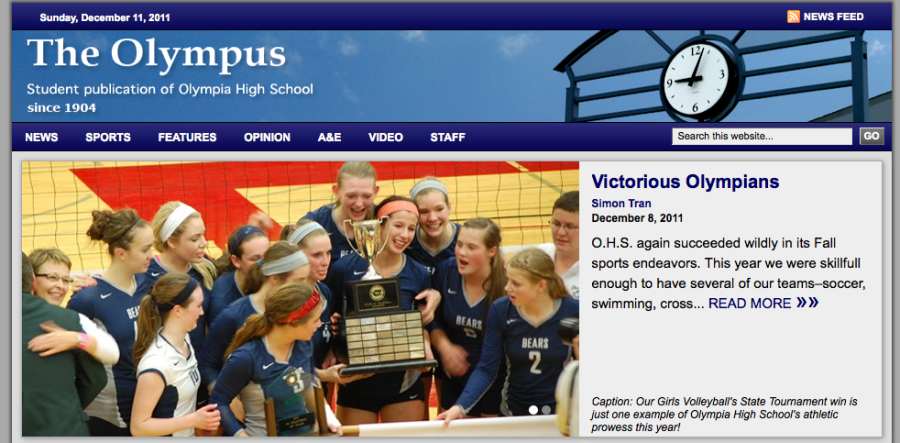 Wes Murry
December 11, 2011
The paper edition of The Olympus has existed since 1904, but the online edition has only been around since September of this year.  Do you read either of the papers?  Why do you read or not read them?
While I believe many are articles are well-written pieces involving quality subjects, I strongly feel that they do not capture the average student's interests.  How many students care about the salmon run, test anxiety, or Occupy Olympia?  I am sure that some students do care, and I have read the articles and they seem well put together, but do they appeal to most of the students?
Other articles seem unnecessary, like our school's sports teams.  Much of it is passed on friend-to-friend, reiterating points that we already know; old, boring news.  Just look at our sports section online.  We have eleven sports articles: seven about our school's teams, three about local professional teams, and totally unrelated to both.  Three of the seven school sports articles are about our volleyball team: two of them about their state title.  After three assemblies acknowledging their success, two headlines online, coverage from local media, and word of mouth; most people would probably suggest that its time to put it in the past.
I feel that it is important to acknowledge the existence of, and the success of our sports teams, but when our stories are not breaking news headlines, and our stories are put up online three weeks after the events occur, why would anyone want to read them?
The audience The Olympus is appealing to online, is a community of internet-using teenagers.  Generally, internet-using teenagers seem to be pretty quick at communicating information.  It seems like The Olympus is a place to look for old news.
If The Olympus is going to be a successful online website, it must do a better job appealing to its audience.  The Olympus must consist of articles that Pacific Northwest teenagers want to read.  Often times, our ideas for articles on subjects such as current events, world news, and professional sports get turned down for reviews, opinion pieces, and student life articles.  But how would you like to read an online newspaper that is designed to interest the local Pacific Northwest teenager?
What can The Olympus online do for you?  How can we make our website a better experience?  What kinds of articles would you like to see online?  Please email your suggestions to [email protected].