OHS Young Democrats: An Active Political Group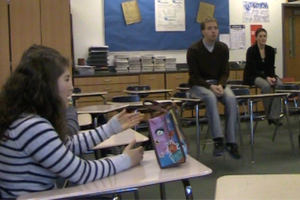 Evan Ricks
Wes Murry
January 17, 2012
The OHS Young Democrats Club is active!  Students will have an opportunity to work closely with Thurston County Democrats (TCD) and learn about local government, volunteer on campaigns, meet local politicians, and give input to city, county, and state representatives.
The OHS Young Democrats Club is a great place to meet with democratic leaders, start political careers, and get acquainted with our government.  Meetings are at OHS in Room 508 on Tuesdays at 7:30 AM.  So far, students have had the opportunity to meet with newly-elected Olympia mayor, Stephen Buxbaum, TCD Chairman, Stew Henderson, and US Representative candidate, Denny Heck.
As many politicians gear up for the 2012 election year, students will have the opportunity to work with democratic candidates seeking office.  Not only will they experience a first hand account of politics, but they will receive incredible life skills.  Also, working on a political campaign can help your college application and give you an obvious upper-hand when applying for work.
The OHS Young Democrats Club is a great club to join for liberal-minded students interested in being a part of their community through politics.  Check out the club on Tuesday mornings or see the video for more information.