You Got Played, Fool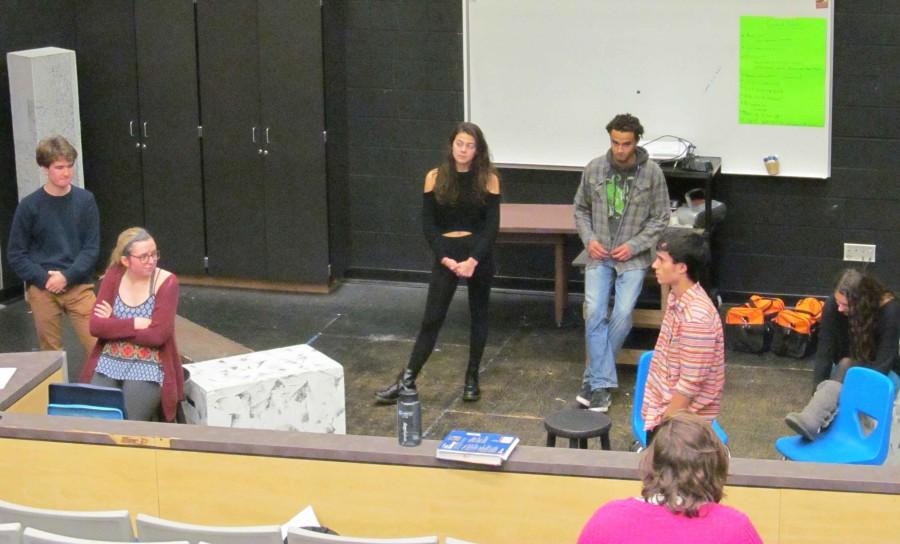 Jade McGuirk, Writer
October 29, 2015

Having students titled with honorable mentions' from the 5th Avenue Theater, national qualifiers for the Thespian Festival and going on to act on the very popular show Criminal Minds, is the work of Oly's Drama Department. Starting November 6th, the well respected and awarded play, "Noises Off", will be adapted by Olympia High School's award­winning actors and actresses.
"Noises Off" exemplifies what goes on behind the scenes of an actual play; it is a play-within-a-play. A cast of nine will convey a very dramatic and comedic clashing of personalities. "This show is super, super, hilarious, it shows the background of what happens in an actual show. You'll feel like you're actually in a play," said Senior Gaby Sipe about why students should come to see "Noises Off."
Having survived a competitive audition, several of the actors and actresses chosen to be in "Noises Off" are proud hard-working classmates of ours.
Junior Clarke Hallum, who has a starring role in the production has been mentioned on www.Broadwayworld.com and the New York Times for his work touring with A Christmas Story in 2011. Hallum also earned the leading role in last years musical How To Suceed In Business Without Really Trying. Notes Hallum, "Students should come see Noises Off because it's a great opportunity to see an element of OHS that is not a sport. It's a good outlet for kids and it's a way to get involved with the school that isn't athletic but still has a competitive spirit." Clarke Hallum plays the dorky, socially awkward, and nervous Gary Lahone. Gary is dating a women who is fifteen years older than him and plays a very smooth character in the play-within-the-play, called "Nothing On."
Mentioned on www.seattlerep.org for his first place win with a August Wilson monologue is senior Jaron Crawford. Crawford had the opportunity to travel to New York City and perform his award winning monologue on a Broadway stage, which is a great accomplishment for both Jaron and drama teacher, Mrs. Dorgan. "You'll laugh and You'll enrich your theatrical understanding", says Jaron about "Noise Off". He plays a shy insecure man who doesn't respond well to anger because he gets nose bleeds. "Noises off" is Jaron's 19th production and he hopes to continue acting at conservatory college for acting.
Another experienced OHS actress–and state qualifier in the thespian festival–is Senior Daire Bryne, who noted, "The first night we got the scripts I was reading it in my room and was literally laughing out loud. It's so funny and I think students will really enjoys it." Daire plays a crazy, forgetful, cougar named Dotty, who is dating Clarkes character, Gary Lahone. Daire is planning on extending her love for acting by auditioning for plays at whatever college she attends.
Senior Deena Ingly is very new to acting but obviously making a name for herself. With two perfect scores on her monologues at last years thespian festival and landing a spot on "Noises off," which only has ten characters, it's clear that Deena has a knack for the performing arts. "This play is one of the best comedies I have ever read. I think it really relates to high school. It has sexual humor, swearing, all that kind of stuff. Students will not be disappointed if they come to ["Noises Off"].
Senior Ethan Grabowski did his first show in the eighth grade and has continued to do at least one show a year ever since, Ethan plays an alcoholic named Salston, who stumbles around in search for whiskey. Ethan wants students to know, "If you want to die laughing, this is to place to go!"
Senior Z. Spivak plays the lying, cheating, temperamental director (of the play-within-this-play). "He's kind of a jerk and is having an affair with two people. But one of them is pregnant, so he's kind of in the middle of a love triangle." Spivak continues, "The entire play is very fast paced with a ton of physical comedy and witty exchanges. I'm pretty sure there is only about five lines in the second act…and almost entirely physical comedy."
Senior Kate Anders has been acting since the seventh grade and is a state qualifier through the Thespian festival. Kate's character is Brooke, whom was described as, "A ditsy, spacey actor, whose new to acting and she's from London! She's really stupid, really fun to play!" said Kate. Kate agrees that "Noises Off" is one of the funniest plays she has ever read and would hope students will come because they will really enjoy it.
Senior Jack Steiner has been acting for eight years and plans on majoring in acting. Jack placed third in a Shakespeare competition and was also a state qualifier for the Thespian Festival. Jack plays the assistant stage manager named Tim, who works really hard but is taken for granted. Jack wants students to come to "Noises Off" because, "There is lots of physical comedy, it's super fun to watch and the set is amazing! Students will really enjoy it."
Senior Gaby Sipe has been acting for the past five years and plans on pursuing the art in college. "My character is Poppy Norton Taylor. [This character] is the assistant stage manager, very sensitive and over emotional. She's verbally abused by director because they kind of have a thing going on, so she kind of just lets people walk all over her."
The lady who has made our Drama Department possible is long­time teacher, Kathy Dorgan. Dorgan has been teaching and directing for 18 years and is apart of a fellowship at Juilliard. Only 20 teachers in the entire U.S. are invited to participate in this program at prestigious Julliard. She is also a proud member of the Drama Hall of Fame and is the owner of three 5th Avenue awards. "Noises Off has been on my bucket list for quite some time now, and it's really, really funny. Students will definitely like this play."