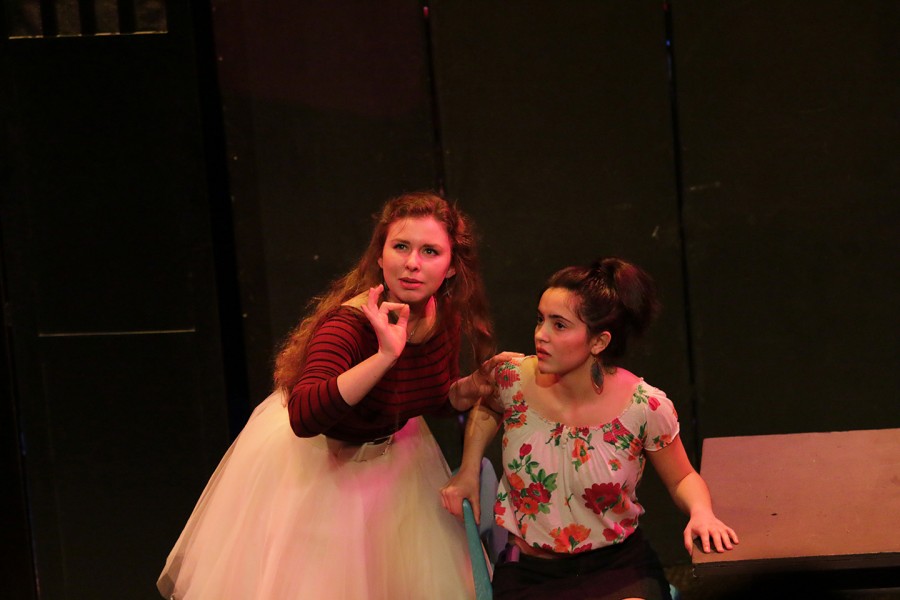 Lights, camera, action! It's all eyes on OHS students as they show off their talent in the annual dramafest put on by ours truly. "Dramafest is a one act play selected by students" state's Junior Rose Rinehart. The students, or you could say directors, choose a play, direct it, hold auditions, and choose the stage setting."I like being in a show that's completely put together by students" admitted Senior Em Charles.  With thirty plus people in the production, you could expect to see a lot of enthusiasm as it was some of the students first time directing. In total, there were four plays with four directors including Rose. "It was a great experience to be in the shoes of a director's point of view!" States Rinehart.
If you think dramafest isn't worth going to, think again. Dramafest is a more relaxed setting rather than a big production like a school play. This way, students (or directors) can connect more with the audience so that they can be comfortable. With all eyes of the actors and directors, it's hard not to get a little nervous, but with our experienced drama students it doesn't even phase them anymore. "I've been a part of plays since i was in the third grade" assured Junior Taylor Krug.  Along with being experienced in drama, there may come some challenges. One challenge that almost everyone can agree on is remembering lines. "Memorizing is always difficult. If somebody says memorizing is easy for them they're lying" addressed Charles.
Dramafest had a huge turn out! "Its nice to see students coming to support their peers and see them do what they love" sympathizes Rinehart. What better way to support the drama department and your fellow classmates? " I love acting because it's a study of every concept of life. You get to live the life of somebody else and figure out how they work and how different people react to different situations. Its an interesting and fun study in empathy" acknowledged Charles.
When there comes work, there is play which is what is most memorable to some of the students. Their favorite memories can vary from laughing with other actors because of their character or from just enjoying to play in a fight scene. Overall, if you haven't been to dramafest before, it is a must see. The talent is outstanding and our actors and actresses never fail to amaze us.