Student Store
As students at Olympia High School we are all familiar with the line of cookie-hungry students patiently waiting for their freshly baked cookies but, how familiar are we with the improvements made by new marketing teacher and student store supervisor Mrs. Fabritius? With the help of the advanced marketing students, the student store has been more successful than ever, and that isn't coming to an end anytime soon. This year Mrs. Fab and her team of students have not only brought new products to the table but they have also improved successful products from years previous and will continue to improve products to get the business back on track.
One of the main goals for the student store this year was to expand apparel and they have done just that. Student Store Manager Sierra Forbord explained, "Our apparel has definitely brought in the most profit being able to make our own clothes has made a big difference in our sales and we've had a great start this year so to see that continue would be awesome". Investing in a heat press has been one of the best purchases made by the student store staff giving the students the ability to customize their own Bearwear.
Senior and Store Manager Maddy Ford stated, "now we can press all of our own clothing which is really cool because that is skilled oriented so we are learning how to do that but then we also have the ability to design and sell our own clothes". Not only has the students store increased their apparel sales but they have also brought in new food items that have been equally rewarding.
In expanding their sales, they have reached out and started working with different companies to get the best product possible. " This year we have definitely explored new and different things, some things don't work out but it's all apart of the learning experience" states senior Sierra Forbord.
Although the student store has made great progress since transitioning to the new supervisor Mrs. Fab, she couldn't have done it without the help of her dedicated marketing students and staff. The student store class is solely responsible for the success of the business shaped by their background in marketing and DECA (Distributive Education Clubs of America). All students that participate in running the business have the knowledge necessary to facilitate a business and Mrs. Fabritius gives them the chance to put their knowledge into action. The student made staff are not only in charge of running the business but are constantly making changes to products, improving products, and developing new ideas to present Olympia High School students with the best products and service possible.
Teacher Mrs. Fabritius explains, " I'm excited to be a part of Olympia High School and to see the student store class implement new ideas. We've worked hard to offer our community great products and services at great prices".
The relationship between the student staff has had a huge impact on the performance conveyed. Because all of the students have a history with marketing and DECA, they all have the same interests and dedication towards the success of the student store. Senior Maddy Ford explains, "we are such a tight-knit group it makes it easy to work together and create new ideas to make the business thrive". With the customer's best interests at heart, the tight-knit group of business savvy students have brought a fun and welcoming atmosphere to our student store.
About the Writer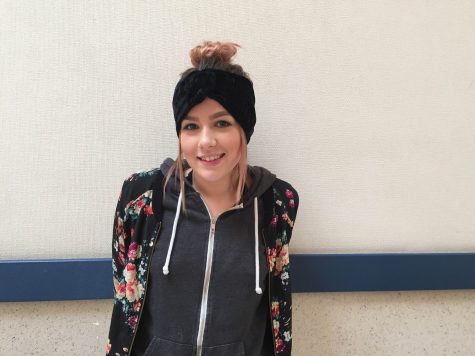 Rylie Wilson, Writer
Hi my name is Rylie I am 18 years old and a senior at Olympia High School. I have a strong appreciation for music and learning especially when it can contribute...