Olympia Music
The longer you've lived in the small quaint town of Olympia, the more apparent it is that everyone here is somehow connected to one another. The inevitability of living in such a community oriented place is that everyone has ties, whether your mother went to college with the science teacher you despise, or your dance teacher had a brief fling with your therapist.
Additionally, Western Washington is the origin of countless musicians; some who have made it big and launched from their hometown, and some who still play shows in their basements. So inevitably, some mutual acquaintances or friends of friends are bound to be semi-successful musicians or producers. This column is written as a guide to these up-and-coming hard rockers living everyday lives; a dedication to the Supermen and Wonder Women of the Olympia music scene who, on occasion, exchange their Clark Kent glasses for an electric guitar and shred in the spotlight.
Washington's music scene stretches far beyond Nirvana and the angsty grunge scene of the 90's and the more modern music like Macklemore. Olympia itself is the home of the original Riot Grrrl Movement started by several local girl punk bands from the 90's including Bikini Kill, Bratmobile, Sleater-Kinney, Heavens to Betsy, and Babes In Toyland. Many of the artists that started here are still around to this day, like Beat Happening. It's been a few decades since the height of angry punk here in our city, but the underground scene is far from dead. There are tons of new, upcoming and local musicians here in Olympia and Seattle, all proving that local punk is not dead. Bassist Nick Gross of local Olympia punk band Queen Bean says, "It is definitely better than when I first got into the Oly punk scene. It used to be brutal. We would open for crappy douchemetal bands who thought they were Limp Bizkit. At least now, you can book shows with legit punk bands. So it's better in that sense but punks will always find something to gripe about." Singer and guitarist of Fuzzy Math, Dominic Jenkins, has a slightly less optimistic take on the matter. "The music scene comes in waves in Olympia. A few years ago it was really big and now it's in a bit of a lull. I'm optimistic for the future of it though."
This brings us to our first local band of interest, futuristic rock-pop outfit Fuzzy Math, named thus because "the universe is imperfect and everything we do is based off of imperfect and subjective calculations, and that I call that Fuzzy Math." We interviewed falsetto-crooning frontman Dominic Jenkins for the scoop on his influences and his future. After listening to their song "Grow" I found it reminiscent of the dreamy, psychedelic crooning of Radiohead (emphasized by the Christmas lights on hyperdrive in the music video), with the understated syncopation of Gorillaz and the pubescent high notes of Weezer. Jenkins said this is essentially the sound he's aiming for. "My favorite bands are Radiohead, The Smiths, The Cure, The Strokes, Gorillaz, and LCD Soundsystem. Also Producers such as Jamie XX and Four Tet are very inspirational for me currently. I'm also a big fan of the modern minimalist composers Philip Glass and Steve Reich. I try to incorporate elements of all that." Giving advice for any inspired musicians at Olympia High School, he says frankly "No one probably cares, so do it because you love it and don't expect much. And enjoy the good times." Optimistic words to end on, and certainly ones to live by when starting a low-stakes high school band.
Juxtaposing the tentative, crooning guitar riffs of Fuzzy Math, we next interviewed bassist Nick Gross' Queen Bean, which clocks in on the opposite side of the Olympia punk spectrum. Jaded and experienced where Fuzzy Math is still learning, a punch of hard solid rock where Fuzzy Math is more like a gentle smack.
Gross tells us about his hard rock roots. "Obviously the bigger influences for me were bands like Bad Religion, The Descendants and Public Enemy. But honestly, I'm more influenced by bands I see that are still trying to make a name for themselves." Queen Bean has made a name for itself, though, so he gives us advice, having spent years scoping out the Olympia music scene. "Biggest piece of advice I can give is SUPPORT THE […] SCENE! So many kids claim to be punk and what not but you never see them at shows. That's not punk. Also, don't be elitist. If you're at a show and some kid wanders in that doesn't look like they belong there, be cool and be a guide." Gross states.
As a seasoned veteran of the punk scene, Gross sums up what punk means to him. "It's a code I live my life by. I don't want to say "like a religion" buts it's as close as I come to it. If you're gonna call yourself punk you better damn well back it up by being socially conscious, be accepting of anyone who wants to be part of the scene. If you're at a punk show, everyone there is part of it. No exceptions. I'm rambling now because what punk means to me is very much a personal thing. It should be the same for anyone who is part of the punk scene."
If this interests you in any way, shape, or form, Fuzzy Math next plays at Obsidian at Friday, the seventh of October, and the following Friday in Tacoma. Future shows will be posted on the band's Facebook page. Alternately, if you find yourself interested not in Fuzzy Math but in the abstract concept of a small, intimate, thrashing punk show, check out the posters in the window of Old School Pizzeria downtown, or check the upcoming shows for the Real Art venue in Tacoma (If you do so, bringing a water bottle and comfortable shoes is heavily advised. Mosh safely, kids.) or even attend a show in someone's living room at a party. "One of the best bands I ever saw was at a basement show with like 5 people there," says Gross. So, dudes, pay attention to the posters you see around downtown. Go to a show, buy an album, support your local artists. Until next time, hard rockers of Olympia High.
About the Writer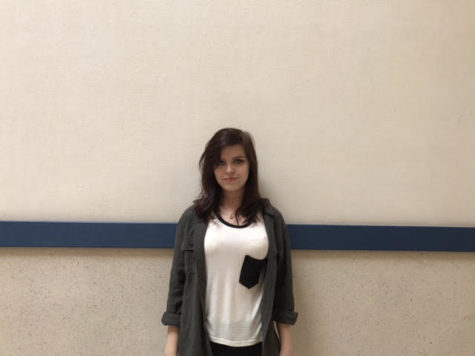 Elle Forsberg, Editor
Yo Olympia, my name is Elle. I'm a junior at Avanti High School and an Editor at The Olympus. I like to play the guitar, watch true crime documentaries...