Community Service
The holiday season can put almost anyone in a giving state of mind. Whether it's donating, serving food, or helping others in any way, serving is a very generous to spend your holidays.
Dora Matthews, advisor of Olympia High School's Key Club and teacher, expresses, "It's amazing how karmatic it is once you start helping people,". Key Club is a service club at our school that around 70 students at OHS are members of. It is the high school branch of Kiwanis. No matter how much time you have to spend, here are some charities you can support this holiday season, or anytime this year.
Volunteering for Toys for Tots is one option. Donating, gathering, bagging, organizing and distributing toys are all ways to assist this charity. Last year, Toys for Tots helped over 9000 children in Thurston County get the toys they otherwise wouldn't have been able to. "Toys for Tots gives children who are in domestically unstable/violent homes a sense of normalcy," explains Russ Caron, a service manager for toy distribution. "It tells the children, 'Santa is still there for them.'" Toys for Tots, being a Christmas-themed charity, gets the majority of its support over the holidays. "It's almost like a festival. People have fun when they help," says Andrew Caron, Russ's son and manager of newer volunteers for Toys for Tots.
Helping at the Thurston County Food Bank is another service opportunity. Olympia High donates the food gotten in the Canned Food Drive to it, so by supporting that program here, you are supporting an organization that helps so many in the Olympia, Tumwater, and Lacey community. In 2015, the Thurston County Food Bank served about 18,000 households per month around 27 pounds of food each. Volunteer opportunities include organizing and distributing food, and with volunteer hours almost every single day, there are many opportunities to help. Along with Community Kitchen, many churches in the Olympia area have food-related services. One such service is the Men's Shelter at St. Michael Parish. This shelter provides twelve men a hot meal and a warm place to sleep. This program is four nights a week, from November to March.
For those who are not as interested in organizations, but still want to lend a helping hand, giving aid to your neighbors can give you "goodness points," in the words of Matthews. Raking leaves, shoveling snow or other yard work are useful ways to give the people who live around you a hand. Other options could be helping decorate, wrap gifts, buying gifts for those who may not be able to get to the shops themselves. Along with that, helping prepare holiday meals or do housework for family gatherings is very beneficial and can leave them more time to other things that they want.
Whatever community service you choose to partake in, focus on participating in it with a positive attitude and complete it to the best ability that you have. "People tend to do these around the holidays, but I'd like to spread that over the whole year," Matthews describes, and many would agree. The Olympia community needs help all year long, so definitely be supportive over the holiday season, but continue the hard work for the other eleven months as well.
About the Contributor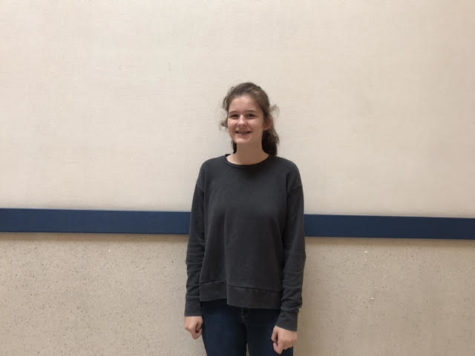 Elizabeth Swenson, Reporter
My name is Elizabeth and I am a reporter for the Olympus. I enjoy dance, attending concerts and traveling. Currently I am a Sophomore at OHS. I am excited...