Oly Bears Are Off to College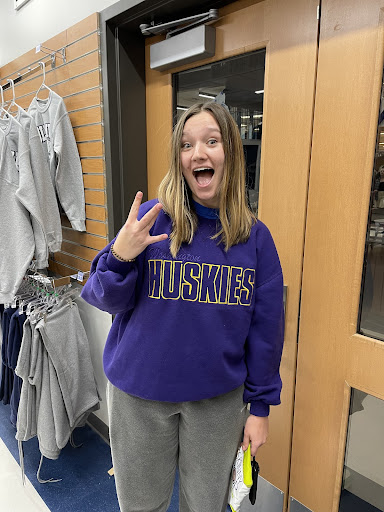 As college decision day passes, the senior class of 2022 has begun to announce where they will be attending. The hard work and application process has paid off for Oly's seniors, bringing in acceptances to schools across the country. 
Many seniors aren't ready to leave home yet, making some parents happy knowing they'll only be a drive away. Jasmine Zhang, OHS Senior, was accepted to highly ranked computer science programs at several universities. Zhang came down between UW and USC, ultimately deciding to attend UW this fall. She looks forward to "meeting new people in Seattle and being a part of an amazing department that will provide her with a lot of opportunity." Sriram Pathi, also attending UW, will be majoring in biochemistry on the pre-med track. Pathi always looked to going to UW, and had no trouble making his decision. He is excited to "live independently and explore a new era of life, taking advantage of the great research opportunities available at UW." Oly sends off many of its seniors to schools around the state each year, most popularly UW and WWU. 
California is always a sought out state to be in for college, as the location and endless opportunities are attractive to many. Dan Sunchu, UC Berkeley commit, is "excited to finally study subjects I truly enjoy and explore the intersection between finance and technology. It's exciting but also scary at the same time because you can't lay off the studies; what you do in these next four years will really put you on the track to success." Sadie Lowsky, who will be attending SDSU, "can't wait to meet new people and be in California. The weather will be great and much different from Washington." Students are especially excited for the new environments they will have access to, with a good balance between work and play. 
Others plan to leave the west coast, venturing far out from Washington. Lucas Qiu, off to Case Western Reserve in Ohio, looks "forward to the food. There's a spot called Little Italy owned by the mafia which I think is so cool." Qiu plans to pursue computer science, a very popular major across this year's class of seniors. Kristen Chapman will be embracing the warm weather year round in Hawaii. She is "so excited to be somewhere tropical and be able to spend [her] days outside." Gabby Sacks has found herself going far east to Pennsylvania. Attending Lafayette, Sacks plans to "be involved in the huge culture of school spirit through sports and explore her options academically between majors that the school provides a lot of freedom with." 
Snow sports and Greek life are a common attraction to seniors like Brendan Lundgren and Lucy Peters. Lundgren will be majoring in exercise science and hoping to join the same fraternity his father was in at University of Idaho. Peters will be at the University of Nevada, "trying out new experiences in a new place, excited to rush a sorority and snowboard in the area." Alex Hodson, off to WWU, really looks forward to "being in the Bellingham area super close to Canada." Hodson is excited to gain some more independence, ski, and discover what he hopes to major in.
By the end of the year, the commons' walls will be covered in colleges and post-graduate pathways, with the names of those attending right below.