Notice of Nondiscrimination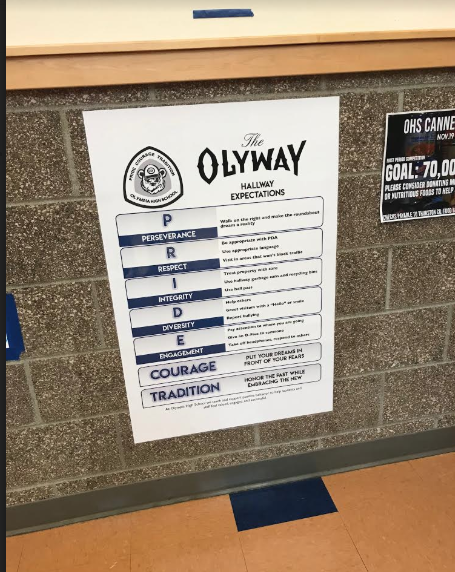 Bella Adderley, Reporter
January 7, 2019
According to Olympia School District, the Olympia School District will provide equal educational opportunity and treatment for all students in all aspects of the academic and activities program without discrimination based on race, religion and their sexual orientation.
"I feel like discrimination as a whole is widely and justifiably considered to be a negative thing. I don't think that there are many people who would openly support discrimination of others, especially in the times that we live in. To put it simply, I guess I would say that discrimination sucks. That feels obvious. As a member of the LGBTQ community, I can't say that I myself have experienced as much discrimination as others in the community have, as I think that is largely because of the open and welcoming environment of Oly. That is not at all to say that discrimination as a whole is absent from Oly, I just have not personally experienced or witnessed much of it. The only thing that I can really think of that could be categorized as "discrimination" that I have experienced personally was the absence of the subject of things related to being in the LGBTQ in health class, where it was only touched on briefly if at all. However, I find myself lucky that I live in a place where I don't have to constantly worry about being judged or discriminated against for who I am. In preventing any sort of discrimination, I would argue that the most effective method is overall education, whether this be education of the struggles faced by people in minorities, or education of what we as a student body and human beings can do stop ourselves from discriminating against people." Says a sophomore at Olympia High School.
According to Saide Noble a Freshman,"Discrimination is a very large issue not only in the US but everywhere. Our community needs to find a way to look at people with a different perspective. This issue has been going on for so long since the 1870s. In the LGBTQ community there is a lot more discrimination than a lot of other "groups". LGBTQ citizens undergo so many things because of their sexual orientation. Students of this community get treated differently in school because of their sexual orientation."
Another part of equity is sexual harassment, according to Olympia School District, students and staff are protected against sexual harassment by anyone in any school program or activity, including on the school campus, on the school bus, or off-campus during a school-sponsored activity. Sexual harassment is unwelcome behavior or communication that is sexual in nature when:
A student or employee is led to believe that he or she must submit to unwelcome sexual conduct or communications in order to gain something in return, such as a grade, a promotion, a place on a sports team, or any educational or employment decision, or
The conduct substantially interferes with a student's educational performance, or creates an intimidating or hostile educational or employment environment.
Although many companies have invested in creating nondiscrimination policies, 31 states still don't have fully inclusive nondiscrimination protections for LGBTQ people.