Robotics goes to worlds!
All the way in Houston, Texas the robotics FRC team of students from Olympia High School, Capital, and Avanti participated in the robotics world championship.  
They competed with an almost 5ft tall robot much larger compared to the usual robot used in FTC competitions. FTC is each school robotics team if they chose to start one while FRC is a bigger organization that has multiple schools combined on one team. 
The January-April season leading up to the competitions is meant for building the robot. Laasya Yaramaka, a junior on the robotics team explained, "For FRC you start from scratch, you start from sheet metal, aluminum, and titanium and you essentially have more freedom to do whatever you want."
Every team competes in 2 competitions called qualifiers before moving on to districts the final step closer to worlds. You can either go to world championships for winning districts or win a special award. 
The FRC team won the engineering inspiration award for their work in Egypt over the summer. Yaramaka shared, "During the off-season we planned a trip to Egypt where we taught the kids how to make robots and about the essentials of robotics." The teams that they taught over the summer also made it to this year's world championship.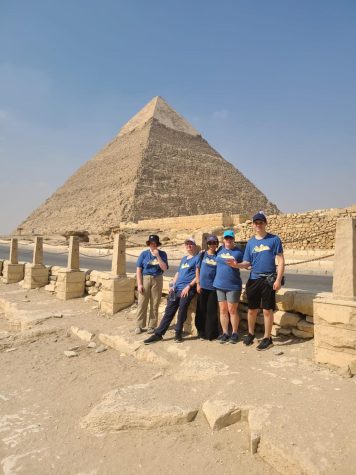 Worlds were unlike anything the team had ever seen. The championships were held at the brown convention center and the total of the FRC teams and crowds was over 60,000 people.
There was such a large number of teams that they were split into divisions. Teams competed in 10 different competitions in hopes of qualifying for finals. Unfortunately, challenges arose with the FRC team's robot. 
The plan was to go in with a new robot intake for Worlds but, "we forgot our drivers' station so nothing could be coded." Yaramaka shared. The team had to revert back to their old design which had an arm that broke off. Luckily, they were able to fix it and came out 54th/77. 
Even without the win, the lessons learned were well worth it. Yaramaka's favorite part of the competition was that "You got the see so many diverse people from around the world there… from Mexico, Israel, India, Egypt, and more." 
With presentations from NASA about an unreleased rover, top college scouts, and a presentation from Disney to famous actors such as Elizabeth Olsen showing up for night one. The convention was made to inspire future generations of engineers and creative thinkers.