Girls' tennis serves, starts season off strong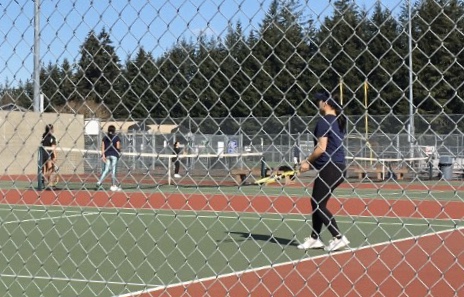 On March 14, 2023, the OHS girls' varsity tennis team played their first game of the season, beating Emerald Ridge. The team, comprised of eleven players, won on all five courts.
Junior team captain and singles player Christine Zhang played two impressive bagel sets, walking away with scores of 6-0 and 6-0. After the match, Zhang expressed the importance of team spirit: "I've learned… that support means everything. My coach, Don, always has the team cheer on players when they have a tight match, and it helps turn the match around."
When asked her what she enjoyed most about tennis, Zhang stated that she likes how mental the sport is, because "surprisingly, 60% of tennis is physical and 40% is mental." 
Zhang also shared some of her personal challenges on the court. "I've injured myself two times already and it's been really hard to get back to tennis… it's also really easy to be hard on yourself when you play… an individual sport. Mentality is huge, but I forced myself to start saying positive things during matches because I tend to be really critical of myself when I play. I'm still working on being more positive!"
However, thanks to the support of her coach and her teammates, Zhang feels that being on the tennis team is "amazing because all the girls on the team are really supportive and it's just a really great atmosphere."
The team plays their next home match against Camas on Saturday, March 18 at 11:00 am. Be sure to come out and support the Bears!