Student Feature: Nick Zimmerman
"Charismatic…charming, funny, and thoughtful." Remarks sophomore Simone Meade when asked her thoughts on senior Nick Zimmerman.
Nick is all of this and more. Conversing about the merits of film and acting is one of the things he enjoys most. Having been the lead in quite a few productions throughout his life, acting is a very important part of who Nick is. One of the most defining moments of his life occurred when he was in first grade and was singing his first solo in the play, Arf.
Nick's main values are honesty, personal respect, kindness, and honest confidence. To him, kindness is always trying to help others and looking at the world through the lens of how one can be of help. Honest confidence to Nick means to not act in a bragging manner, but also means to "present the good" – the good things which befall one and to share that joy with others. Meade also touches on Nick's value of kindness, saying "He's really [good at] making people feel good and happier, prioritizing other people's emotions and making them feel the best they can."
As far as his passions go, film ranks very highly for Nick. He believes that the conditions that distinguish a good film from an okay one are the score and the plot. The score as he says "makes the movie", for it creates the atmosphere which allows depth and complexity in scenes and the film overall. One of the main distinctions between a good and great film is the acting, which conveys a multitude of meanings and feelings, and brings intricacy and life to scenes. Some fantastic movies that he recommends are Whiplash, Interstellar, Spirited Away, Rocky Horror Picture Show, Into The Spiderverse, and Seven Samurai. 
Maira Aurelio, ASB president and classmate of Nick, says of him that "He's a dynamic character to have in class", explaining that he makes the classroom brighter and brings life to wherever he is as well.
For those viewing this on a school Chromebook, the video is a Works of Man interview featuring Nick Zimmerman.
Leave a Comment
About the Contributor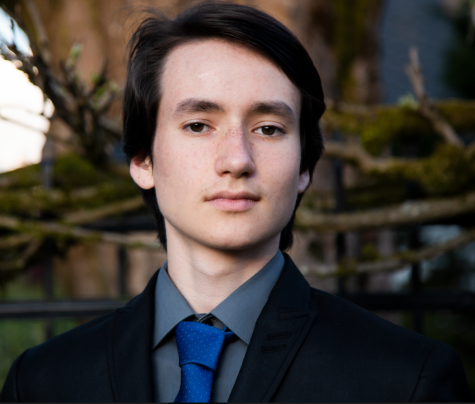 Miles Yost, Assistant Editor
Miles is the assistant editor/lead designer of  The Olympus, and the co-lead designer of Literary Magazine. In addition, he runs varsity cross country,...