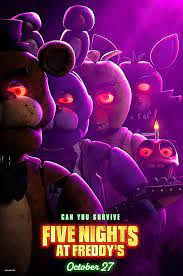 Five Nights At Freddy's began as an R-rated horror video game with jump scares. In 2015, Blumhouse decided to join the writers to create what the movie is now.
Long-time fans of the franchise were surprised that a Five Nights at Freddy's movie would be coming out. 
The  movie begins with Mike Schmidt (Josh Hutcherson) going to an abandoned pizza place popular in the 80's. When pressured to take a new job opportunity, he agrees and begins to work there for a couple of nights. He then starts to get realistic dreams leading to the kidnapper who took his brother.
A backstory to this incident is Mike watching his brother but getting off track. Mike's brother ends up getting kidnapped and Mike dreams of finding answers about his brother's kidnapper.
While doing his job, Mike notices the animatronics acting weird and moving around on their own, which not only creates suspense for the viewers but also tells Mike answers.
Five Nights at Freddy's has a rating of 88% Rotten Tomatoes, so it is definitely a given watch. The movie doesn't have as much horror as it does in the video games, but it is suspenseful and sad.