The OHS Girls Golf Team finished their fall season at their league tournament last week. In their final matches of the fall season, the team placed fifth in leagues. Only losing their last two matches against Bellarmine Prep and Curtis, the Bears finished their regular season with an overall record of 7-2.
In her second year as head coach, Dr. Taelar Shelton had a good feeling about this season. "During the first practice I knew we were going to be a lot better than last year just by watching them on the driving range," she exclaimed.
After finishing last season with a 5-4 record, the Bears were finished this year with only two losses in league play. Shelton said, "[They] had a good thing going with our matches. [They] were more prepared for our league matches… [they] knew what [they] wanted to accomplish and they did a pretty good job executing that."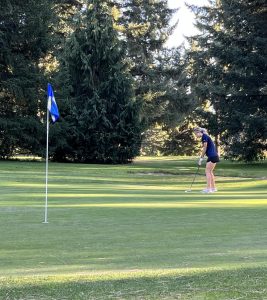 Despite only having one senior, the team kept their composure starting their season with seven matches undefeated.
Junior Kameryn Vekich commented about Senior Amelia Lorentson, "Since I was new to the sport, I definitely had to take more advice than give advice. I want to thank Amelia since she really helped me out during matches because [Amelia] was my partner for a lot of the matches and so she taught me a lot about golf. I wouldn't be here without her."
Throughout this year, Lorentson has been described as a "key leader" and "role model" for the team.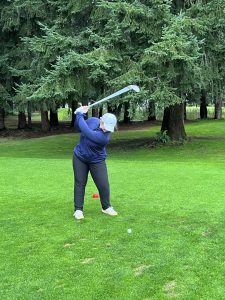 Regardless of the rainy, harsh conditions at leagues, the team managed to scrap out sixth place securing the final team spot to go to districts. Grace Hong who placed seventh, will look to districts in the spring.
"Practicing is really hard in the off-season. It's key though because that's when we will see the most improvement. Sometimes, other teams fail to practice over the off-season and that's when the skill gap starts to contrast," commented Hong.
The Bears will continue to practice in April when the season resumes again. Hong stated the team will be ready for their district matches. "It's a lot of pressure since golf is both an individual and team sport. However, it's really rewarding to see our teammates playing through and improving. That's why I am excited for the spring season!"
The golf season for the girls will resume in April, while districts and state are scheduled for May. With an impressive regular season record, the Bears will look to continue the momentum into the spring postseason.